Auteur:
Winstanley, Nicola
Auteur:
Ferrer, Marianne
Editeur:
Annick Press
Publication:
2019
ISBN:
978-1-77321-327-9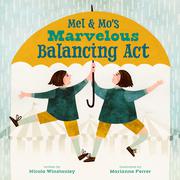 How do you create a life in balance?
Mel and Mo may look alike, but these twins' personalities are far from identical. As they grow up, their differences drive them apart . . . which suits them just fine. Mel's umbrellas fly off the shelves and Mo's high-wire feats are the talk of their seaside town. But then Theodora Tweedle's Raincoats and Roller Skates draws Mo's crowds away, and umbrellas go out of style. Finally, these siblings have something in common. And maybe each twin has just what they need to create something new . . . together.
Mel and Mo's Marvelous Balancing Act balances complex concepts of compromise and complementary differences with spare language and a simple story structure. The twins are non-binary characters, adding a layer of diverse representation for young readers that can also serve as an entry point for gender fluidity discussions.
Voir toute la description
folders
Présent dans 0Dossiers publics
folders
Présent dans 0Dossiers privés
courseshelves
Commentaires